What Does a Pharmacy Technician Do?
On a day to day basis, the pharmacy technician is in charge of filling out prescriptions, interacting with the pharmacy customers and assisting the onsite pharmacist with any tasks that he or she may need help with. To paint a picture of the job, on any given work day as a pharmacy tech you will most likely find yourself doing the following things:
Collecting information from customers and medical providers in order to properly fill prescriptions
Measuring out the proper amounts needed to fill those specific prescription quantities
Packing that medicine after measuring it and then labeling it properly
Organizing and tracking the pharmacy's medical inventory
Handling payments from customers and processing any insurance information that applies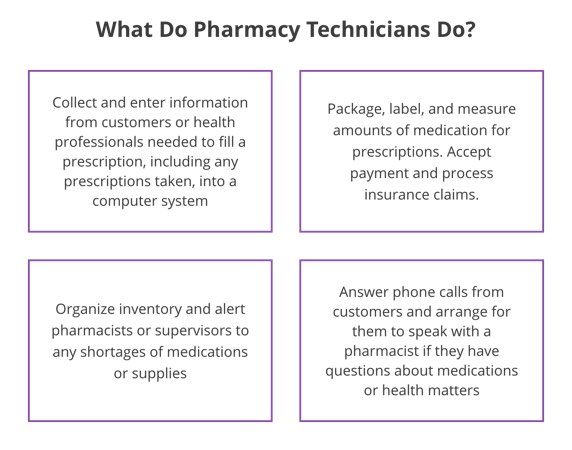 Read more about what pharmacy technicians do.
What Are the Pharmacy Technician Career Opportunities Like?
Lucky for aspiring pharmacy technicians, this industry is a consistently growing one that offers seemingly endless career opportunities nationwide. As of today, the largest segment of the nation's population is made up of elderly citizens who routinely trust the help of well-trained pharmacy techs in order to measure and administer the medications they rely on to maintain a healthy, comfortable lifestyle. Because of this demographic-fueled demand, pharmacy technician jobs are expected to grow 9% throughout the next seven years.
The majority (about 70%) of pharmacy technicians actively working today can be found in retail pharmacies. These are the national chains you're likely familiar with- Walgreens, Duane Reade, CVS, etc. Many retail pharmacies are also found within other popular mass merchandisers like Walmart or Target, or in certain popular grocery store chains like Shop Rite.
There are several benefits to working at locations such as these. Firstly, they typically offer more flexible work schedules and hours- many are open on weekends, many are 24 hours, etc. Similar to other medical fields (especially those in 24 hour environments), many of these locations offer technicians the option of joining a rotating weekly schedule in which schedules vary (your days off can vary as well as the times of day you'd like to work).
There are also a number of job opportunities available at locations referred to as "compounding pharmacies." These are your smaller, independently owned "mom and pop" locations, and the dynamic at these are a bit different for a few reasons. Firstly, a compounding pharmacy actually has the ability to create custom prescriptions. Because of this fact, the technicians that are hired to work in a compounding pharmacy location are often required to receive certification.
Beyond that, you could also start your pharmacy tech career somewhere like a hospital or nursing home. If you decide to work in a hospital setting, you will spend the majority of your time preparing prescriptions. The difference between a hospital pharmacy tech and a retail pharmacy tech however, is that a hospital pharmacy tech prepares those prescribed medications in single doses (whereas retail techs fill prescriptions that are meant to last an extended period of time). Hospital pharmacy technicians also may also be required to fill syringes or prepare IV solutions. However, pharmacy technicians can also expect to earn a slightly higher salary if they elect to work in a hospital.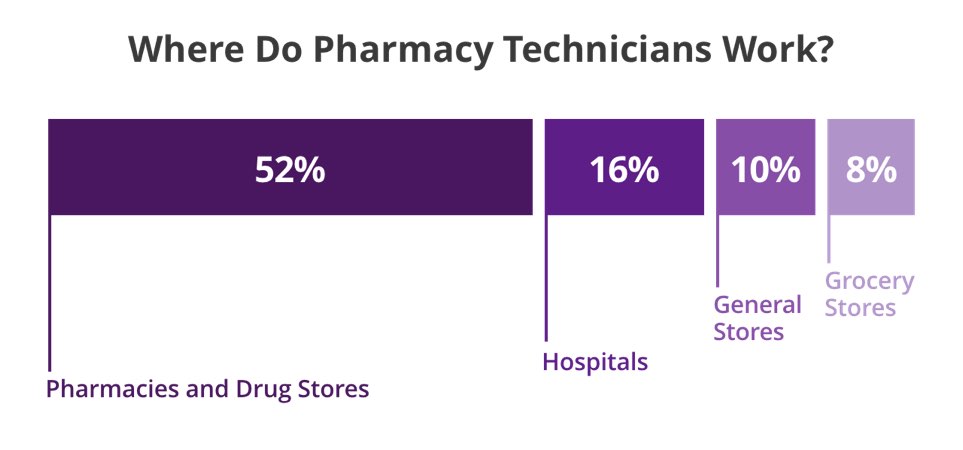 How Much Do Pharmacy Technicians Get Paid?
Throughout the United States, the average entry level pharmacy technician can expect to be paid somewhere between $35,000-$40,000 every year. However, as is the case with all industries, this salary will depend on several things- the skill level of the technician, the level of formal education he or she has received, whether or not he or she has completed an externship or gained any hands-on experience, and where he or she decides to work (see above).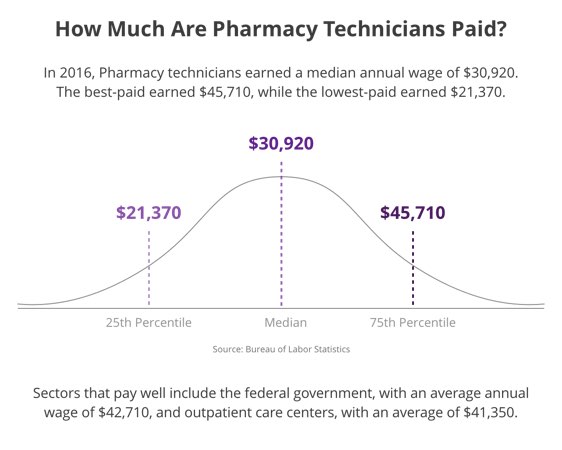 When it comes to a comparison of specific brands and pharmacy chains, certain well-known pharmacies do have a better reputation than others when it comes to more competitive compensation for their technicians. CVS and Walgreens are two of the brands who are known to pay technicians the most nationwide. A few others worth looking into include Safeway (one of the highest - with starting salaries rumored closer to the $40,000 end of the spectrum) and Rite Aid.
The scholars at Payscale actually completed some recent research in order to find out whether pharmacy technicians throughout the United States reported to be generally satisfied with the amount of money they were currently being paid. According to the findings of this study, on a scale from 1-5, the participating pharmacy technicians reported an average satisfaction rating of 4 out of 5 (of 2,574 pharmacy technicians who elected to participate).
See how much you could get paid as a pharmacy technician.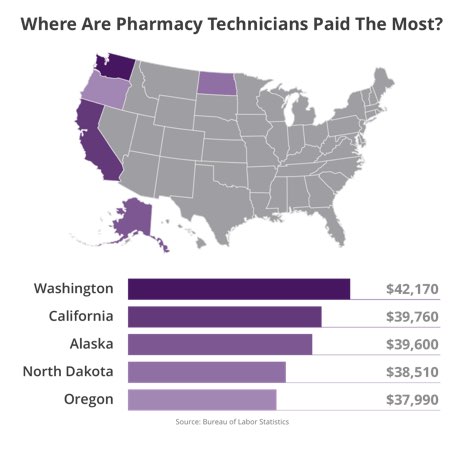 Do I Need a Pharmacy Technician Degree?
Besides a high school diploma, there never used to be formal training requirements for becoming a pharmacy technician. Many currently practicing pharmacy techs received their training on the job; however, the majority of employers do report that they prefer their new hires to have graduated from a 1- to 2-year pharmacy technology program such as the one offered by NYICD.
The programs such as ours are designed to familiarize technicians with the concepts, practices and terminology used on a day to day basis in this fast-paced career. Students of these courses learn things like how to label, package and store prescriptions. Such programs typically result in a diploma, certificate or associate degree, all 3 of which are considered an acceptable credential by pharmacy tech employers nationwide.
Enroll in an Industry Standard Pharmacy Technician Course
How Do You Become a Pharmacy Technician?
If you want to learn how to become a pharmacy technician, here's a simple, step-by-step guide:
Enroll in an accredited career training institute:

As we mentioned above, the majority of pharmacy technician employers report that they're more comfortable hiring an employee who has completed an accredited training program. If this is a career you're legitimately interested in pursuing, enrolling in such a course should be your first step in doing so.

Take the Pharmacy Technician Board Certification Exam:

After completing an accredited pharmacy technician course, you will then be prepared to take either the Pharmacy Technician Certification Exam (PTCE) offered by the Pharmacy Technician Certification Board (PTCB) or the Pharmacy Technician Certification (ExCPT) offered by the National Healthcareer Association (NHA).

These nationally-recognized certifications will ensure that you have the skills needed to succeed at your new career. If you are a student of NYICD, the school will actually pay the exam fee on your behalf, and walk you through the process of locating a testing center, what to do on test day, etc.

Get Hired:

After completing steps one and two- finishing your course and passing your board exam, the job search can begin. Again, if you are a graduate of NYICD, our career staff will work with you after you've completed your course up until the day you're hired at this new job. Your next steps (and ones NYICD staff will actively assist in) should be to:

Write your resume (our career services team can help you with this)
Complete practice interviews to familiarize yourself with questions you'll likely be asked at an interview for this role, as well as help you confidently deliver comprehensive answers (again, our career staff is available to complete mock interviews such as these)
Find available jobs in your area
How can you become a pharmacy technician?
Can I Get Certified as a Pharmacy Technician?
Yes. Especially if you're a student of the New York Institute of Career Development, adding an industry certification to your resume has never been simpler- we walk you through the certification process in its entirety. Not only that, we'll pay the exam fee for all of our students.
What is the Pharmacy Technician Board Exam?
If you're seriously interested in becoming a Pharmacy Tech, you definitely need to learn more about the Pharmacy Technician Board Exam (PTCB). This industry-standard test is nationally-recognized and accredited, and is really important for you to schedule and complete before you start a serious job search. Basically, passing this exam completely confirms to employers that you have the knowledge and capability to start working as a pharmacy technician.
Throughout the United States today, more than half a million of the currently employed pharmacy technicians have passed their PTCB exam and therefore have this industry certification credential on their resume. Anymore, when it comes to applying for well-paid pharmacy jobs, the PTCB isn't just an extra credential to add onto your resume, it's a requirement that employers will expect to see.
What Topics Are Covered on the PTCB?
The exam is extraordinarily thorough and will cover all relevant topics that you'll be faced with once you begin your pharmacy technician career. The exam itself is made up of 90 multiple choice questions, and it covers all the following topics:
Pharmacology for Technicians
Pharmacy Law and Regulations
Sterile and Non-Sterile Compounding
Medication Safety
Pharmacy Quality Assurance
Medication Offer Entry and Fill Process
Pharmacy Inventory Management
Pharmacy Billing and Reimbursement
Pharmacy Information System Usage and Application
Learn more about the Pharmacy Technician Board Exam
How is The PTCB Graded?
Once you complete your exam, it will be graded on a scale of 1400-1600. In order to pass, you are required to score a minimum of 1400 points. According to exam reports, only 75% of all PTCB test takers actually score higher than the 1400 requirement.
While some aspiring pharmacy techs attempt to take the exam without any formal training, industry experts as well as the test makers do strongly advise students to take some type of preparatory course that thoroughly covers all the topics mentioned above.
What Should I Do on PTCB Test Day?
If you are a student in NYICD's pharmacy technician course, the school actually covers the exam fee costs for all of students. So when you show up on test day, your exam has already been paid for by us. If that is the case, all you'll need to bring is your proof of payment (which the school can provide you with) as well as a photo ID, and you'll be ready to get started.
The exam itself will be taken on a computer at a local test center, and should take you about 2 hours to take. Once you've completed and passed your exam, you'll officially be certified and can confidently start applying for jobs.
Where Can I Take a Pharmacy Technician Course?
The New York Institute of Career Development offers fully accredited online pharmacy technician training courses to aspiring professionals who are looking to study from home, at their own pace. The curriculum was designed by industry experts, pharmacists and pharmacy technicians, and the instructors you'll be working with are all currently employed pharmacy technicians themselves.
Not only that, The New York Institute of Career Development has a professional partnership with both Walgreens and CVS. Through this agreement, every student cis able to complete a real life, hands-on externship at one of those 2 pharmacy chains while they are working through the course. This externship is meant to give all students real-life experience in a pharmacy environment, bringing you one step closer to a successful career.
Learn More about our Online Pharmacy Technician Course