Medical Transcription Job Outlook
If you want to join a growing industry with endless career opportunities, you've chosen the perfect field to pursue. Healthcare is among the fastest-growing industry sectors and medical transcription career opportunities are rapidly growing as a result. The U.S. Department of Labor estimates there will be over 67,800 medical transcription jobs by 2024.
67k Jobs
The U.S. Dept. of Labor estimates there will be over 67,800 medical transcription jobs by 2024.
$35k A Year
The Bureau of Labor Statistics reports a median annual wage of $35,720 in May 2016.
Help a fast-paced medical environment run smoothly by providing diagnosis documentation, treatment description and procedural records. Every physician depends on the skills of a trained transcriptionist to produce medical reports needed every day. One of those in-demand careers should be yours.
Medical Transcriptionist Average Salary
Annual Mean Wage of Medical Transcriptionists by State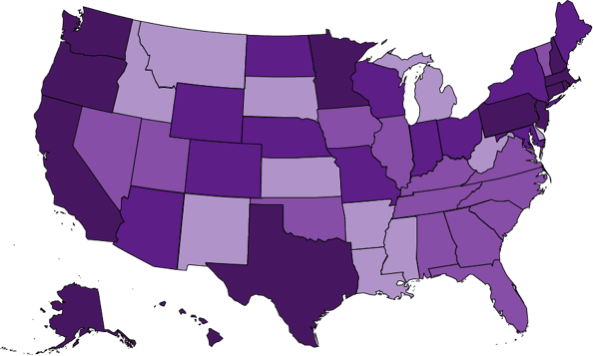 A career in this field may require you to meet certain licensing, training, and other requirements that can vary by vocation and state. You should check with your state, local government and/or licensing board to find out which requirements may be applicable in your state. Click here for contact information on state licensing/regulatory boards and certain professional licensing information.
Now that you have gotten a sense of the medical transcription job outlook, consider a career in this field to set you on the path to financial security. Study anytime, anywhere at your own pace and get certified in a matter of months. Call 1-800-239-9275 or enroll online today .