Our Online Pharmacy School Works for You
After completing the Pharmacy Technician course, students will be able to:
Outline the typical responsibilities of a pharmacy technician and describe the personal and professional ethics required for success in this profession.

Describe the roles and responsibilities of the pharmacy technician and the pharmacist, explain the differences between these two roles, and outline the regulations imposed on both by state and federal law.

Demonstrate the standard techniques and procedures required of pharmacy technicians for pharmacy operations, including aseptic operations, medication transcriptions, metric/ apothecary conversions, drug dispensation, recordkeeping, and patient profiling.

List and explain all major classifications of drugs and understand their indications, therapeutic effects, side effects, dosing recommendations, routes of administration, and mechanisms of action.

Interact with pharmacists, customers, and business associates, displaying professional skills, appearance, and ethics in a work-experience setting.
About Your Externship
The New York Institute of Career Development is proud to partner with Walgreens and CVS so that every student can complete a hands-on externship during the pharmacy tech course. This externship will give you real-life experience in a pharmacy environment and will bring you one step closer to a successful career as a pharmacy technician.


ASHP/ACPE Accredited
Our Pharmacy Technician program has been modeled against ASHP standards and requirements, and has received the American Society of Health-System Pharmacists (ASHP)/Accreditation Council for Pharmacy Education (ACPE) accreditation credential. This accreditation is the national standard for pharmacy technician training programs. ASHP/ACPE-accredited pharmacy technician training is now required or strongly encouraged by several state Boards of Pharmacy. If you are an aspiring pharmacy technician looking to find programs that fulfill this requirement, NYICD's course meets that requirement.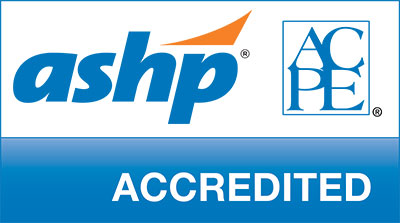 How It Works
Students can enroll and get started anytime. Here is how your online Pharmacy Technician Course will work:

Sign up and gain immediate access to your first set of online course materials
Including ebooks, lesson texts, and hours of HD video training featuring experts in the field, explaining the most important concepts in detail.

You will have access to our team of mentors to help guide you through the course
Here to answer any questions that you might have along the way, you'll have the full support of our faculty as you train for a new career.

Proceed at your own pace with convenient access to your online course, anytime, anywhere
There are no due dates or deadlines to worry about. You have up to two years to complete your course at no additional charge.

Students will get on-the-job training through an externship in a real pharmacy
We have partnered with CVS and Walgreens to give students access to these reputable organization before gradution. We'll help you find a convenient location for you.

After completing the course curriculum, prepare for one of two national certification exams
The cost of the study materials, practice tests, and the exam itself are all covered by the school (a $180 value, yours free with enrollment).
About the Certifications
This course will prepare you for one of the following certification exams:
These nationally-recognized industry certifications will ensure that you have the skills needed to succeed in this growing field. Your exam fee is covered in the price of the course.


A career in this field may require you to meet certain licensing, training, and other requirements that can vary by vocation and state. You should check with your state, local government, and/or licensing board to find out which requirements may be applicable in your state. Click here for contact information on state licensing/regulatory boards and certain professional licensing information. This is particularly important for residents of District of Columbia, Oklahoma, and Washington.