Why Choose NYICD for Your Career Training?
Our online Sterile Processing Course is your ticket to an exciting new career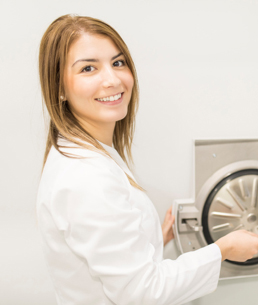 Nationwide industry certification

and study materials included in the cost of the course

Flexible online course

allow you to study anytime, anywhere, at your own pace

One-to-one support

from an industry professional here to help you succeed

Hours of engaging video

training featuring career tips from industry expertse

Graduate debt-free

in a matter of months with affordable tuition
What You'll Learn
After completing the Sterile Processing course, students will be able to do the following:
Recognize the fundamental practices and procedures of aseptic technique Identify common pathogens found in the medical setting and the precautionary measures healthcare workers take to minimize the risk of contracting diseases.

Identify HIPAA privacy rules and regulations and patient information commonly maintained by a healthcare facility.

Recognize the duties and requirements of the sterile processing technician in the healthcare setting.

Identify basic concepts of anatomy, physiology, microbiology, microorganisms, and medical terminology related to the duties of sterile processing technicians

Identify industry regulations and best practice standards common in the sterile processing field and the organizations responsible for setting the regulations and standards

Identify common and complex surgical instruments, industry approved practices for decontamination and sterilization of medical supplies and equipment, and the proper ways to transport equipment.

Identify procedures for effective inventory control and tracking of instruments, equipment, and supplies

Recognize quality assurance practices and workplace safety procedures

Identify the importance of teamwork, workplace communication, and customer relations in the sterile processing setting

Identify basic concepts of technology, writing, communication, and math skills used in the workplace
About the Certification
This course will prepare you to take the Certified Registered Central Service Technician (CRCST) exam offered by the International Association of Healthcare Central Service Material Management (IAHCSMM).
Why did we choose IAHCSMM as our certification partner?
For more than 50 years, the IAHCSMM has been committed to providing healthcare professionals around the world with the tools needed to stay up-to-date on the latest standards, best practices, and technological advancements influencing the sterile processing profession.

The IAHCSMM CRCST Certification is accredited by both the American National Standards Institute (ANSI) and the National Commission for Certifying Agencies (NCCA).

Sterile Processing Certification warrants that sterile processing professionals have the experience, understanding, and abilities necessary for working in sterile processing departments.

How It Works
Students can enroll and get started anytime. Here is how your online Sterile Processing Course will work:

Sign up and gain immediate access to your first set of online course materials
Including ebooks, lesson texts, and hours of HD video training featuring experts in the field, explaining the most important concepts in detail.

You will have access to our team of mentors to help guide you through the course
Here to answer any questions that you might have along the way, you'll have the full support of our faculty as you train for a new career.

Proceed at your own pace with convenient access to your online course, anytime, anywhere
There are no due dates or deadlines to worry about. You have up to two years to complete your course at no additional charge.

Students will be given specialty career support at the end of your course
This includes assistance with interview preparation, resume writing, and job searches, everything you need to know to start your new career in this field.

After completing the course curriculum, you will prepare to take the Certified Registered Central Service Technician (CRCST) exam.
The cost of the study materials the exam are all covered by the school (a $150 value, yours free with enrollment).