Become a Certified Travel Agent
After completing the Travel Agent course, students will be able to:
Encode and decode standard airline abbreviations for cities and airports

Describe how to plan U.S. air travel itineraries based on a variety of trip routes, and price itineraries via the Global Destination System (GDS)

Explain how to read and interpret flight availability and fare information from the GDS and use this information to build Passenger Name Records (PNRs)

Describe the main categories of travel, including railroad travel, rental car travel, cruises, and lodging, and explain how to interpret vendor information for clients and book travel arrangements that meet the needs and budgets of different clients

Explain how to evaluate the quality and value of different types of travel tours and use this information to make recommendations that meet the needs and desires of clients

Describe the difference between domestic and international travel and explain how to prepare clients for successful travel abroad
About the Certification
This course will prepare you to take the Travel Agent Proficiency (TAP) Test offered by the Travel Institute.
Why did we choose the Travel Institute as our certification partner?
The Travel Institute is one of the leading providers of travel agent certifications in the United States. TI's Travel Agent Proficiency Test can help applicants find employment with agencies or individuals and successfully communicate their knowledge.

The TAP test is administered online or can be printed and taken offline in the presence of a proctor chosen by the candidate. After 3 days, the travel institute will approve or deny the candidate's proctor, and then the TAP test can be taken whenever and wherever is convenient.

The Travel Institute is one of the most recognized organizations in the industry, having certified over 25,000 travel agents since their founding in 1964. TI offers a variety of tools and resources for their certified members that will help them stay at the top of their game.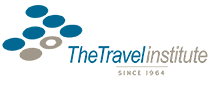 How It Works
Students can enroll and get started anytime. Here is how your online Travel Agent Course will work:

Sign up and gain immediate access to your first set of online course materials
Including ebooks, lesson texts, and hours of HD video training featuring experts in the field, explaining the most important concepts in detail.

You will have access to our team of mentors to help guide you through the course
Here to answer any questions that you might have along the way, you'll have the full support of our faculty as you train for a new career.

Proceed at your own pace with convenient access to your online course, anytime, anywhere
There are no due dates or deadlines to worry about. You have up to two years to complete your course at no additional charge.

Students will be given specialty career support at the end of your course
This includes assistance with interview preparation, resume writing, and job searches, everything you need to know to start your new career in this field.

After completing the course curriculum, you will prepare to take the Travel Agent Proficiency (TAP) Test issued by the Travel Institute.
The cost of the study materials the exam are all covered by the school (a $95 value, yours free with enrollment).