Become an Administrative Assistant
Behind any functional office environment, you will find a diligent, detail-oriented administrative assistant responsible for keeping things organized. These vital members of any office team are there to monitor time management throughout the company, to maintain organized files of office documents, to schedule appointments, and much more. From maintaining archives of important documents to making sure an office supply inventory is up-to-date, an experienced administrative assistant is a necessary member of every well-run company. The job outlook for an administrative assistant is bright, with the department of labor reporting 3.9 million people employed in this field.
3.9M Employed
The Dept. of Labor reported 3.9 million employed as Admin Assistants.
$37.8k A Year
The Bureau of Labor Statistics reports a median annual wage of $37,870 in 2016.
Administrative Assistant Career Path
Whether it's planning corporate meetings or making travel arrangements for industry conferences, your expert knowledge and industry skills will ensure that your office team will be working with someone they can trust to keep things running smoothly. After completing our training program, you'll be ready to start a new career with the confidence that you've been trained by knowledgeable instructors with years of experience.
Average Salary for an Administrative Assistant
According to the U.S. Department of Labor, administrative assistants can expect to make an average of $37,870 per year. Shouldn't one of those careers be yours?
Annual Mean Wage of Administrative Assistants by State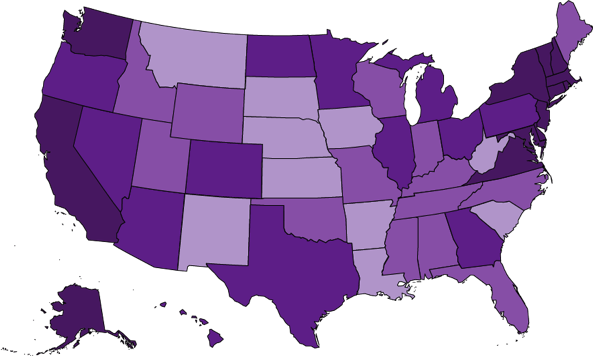 NYICD offers convenient online training to anyone looking to gain the independence that comes with a new career. Study anytime, anywhere at your own pace and get certified in a matter of months. Call 1-800-239-9275 or enroll online today.