Bookkeeper Job Outlook
Inside every functional business or office environment, regardless of the industry, you will find organized, reliable bookkeeping professionals working behind the scenes to ensure all financial documentation is done accurately and effectively. From creating precise ledger entries to managing payroll and purchasing operations, our course will teach you all the skills necessary to start a new career in this in-demand field. According to the U.S. Department of Labor, 1,600,000 people will be employed in a bookkeeping career by 2024. Shouldn't one of those new careers be yours?
1.6M Employed
The U.S. Dept. of Labor estimates 1,600,000 people will be employed as bookkeepers by 2024.
$38k A Year
The Bureau of Labor Statistics reports a median annual wage of $38,390 in May 2016.
Whether it's maintaining financial inventory or preventing internal company theft, after completing our training program, you'll be ready to start a new career with the confidence that you've been trained by knowledgeable instructors with years of experience.
What's the Average Bookkeeper's Salary?
Annual Mean Wage of Bookkeeping Clerks by State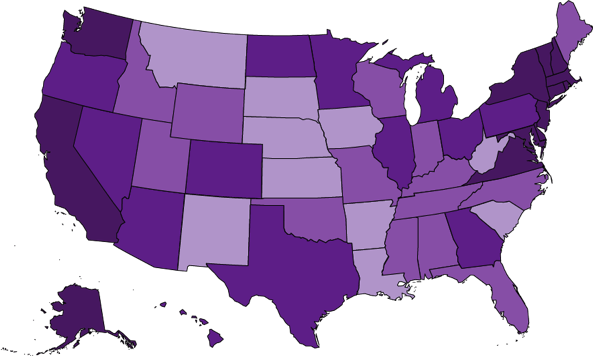 NYICD offers convenient online training to anyone looking to gain the independence that comes with a new career. Study anytime, anywhere at your own pace and get certified in a matter of months. Call 1-800-239-9275 or enroll online today.