Pharmacy Technician Job Outlook
If you want to join a growing industry with endless career opportunities, you've chosen the perfect field to pursue. The largest segment of the population is now made up of seniors who rely on the assistance of pharmacy technicians to measure and administer the medications they need to maintain a healthy lifestyle. Because of this demand, pharmacy technician jobs are expected to grow 9% over the next seven years.
450k Jobs
The U.S. Dept. of Labor predicts there will be 450,100 Pharmacy Tech jobs by 2026.
9% Job Growth
Pharmacy technician jobs are expected to grow 9% over the next seven years.
Apply the fundamentals of pharmaceutical dispensing including dosage form completion, administration route comparison, medicinal measurements and calculations, infection control, medication safety, prescription reading and pharmacology as an integral member of the pharmacy environment.
For more information on salary expectations and prospects for employment in local, state, or national markets, The Occupational Outlook Handbook for Pharmacy Technicians is a good resource.
Average Pharmacy Technician Salary by State
Annual Mean Wage of Pharmacy Technicians by State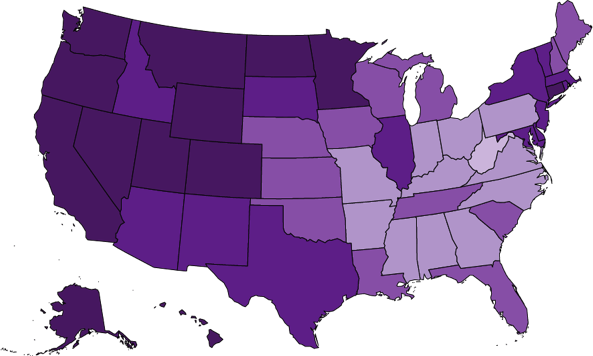 A career in this field may require you to meet certain licensing, training, and other requirements that can vary by location and state. You should check with your state, local government and/or licensing board to find out which requirements may be applicable in your state. Click here for contact information on state licensing/regulatory boards and certain professional licensing information.
Illicit drug use, criminal background checks, and immunization status may prevent future employment as a pharmacy technician. Employers and State Boards of Pharmacy have regulations about drug use and criminal backgrounds.
Now that you have gotten a sense of the pharmacy technician job outlook, consider a career in this field to set you on the path to financial security. Study anytime, anywhere at your own pace and get certified in a matter of months. Call 1-800-239-9275 or enroll online today.