Become a Veterinary Assistant
More than 50 million U.S. households own more than one pet, so it's not surprising that vet assistant and laboratory animal caretakers careers are expected to grow 9% by 2024 according to the U.S. Department of Labor. There will be over 6,000 new jobs created in this field in the next seven yerars. You've picked a great time to begin veterinary assistant training.
9% Job Growth
The U.S. Dept. of Labor predicts a 9% increase in vet assistant and animal caretaker jobs by 2024.
6k New Jobs
There will be over 6,000 new jobs created in this field in the next seven years.
About Our Veterinary Assistant Program
Help a veterinary office environment run smoothly by administering first aid, recording vital signs, comforting surgical patients, coordinating boarding schedules, ordering supplies and more. After completing our Veterinary Assistant training program, you'll be ready to provide industry-standard comfort and care to animals in need.
Annual Mean Wage of Veterinary Assistants by State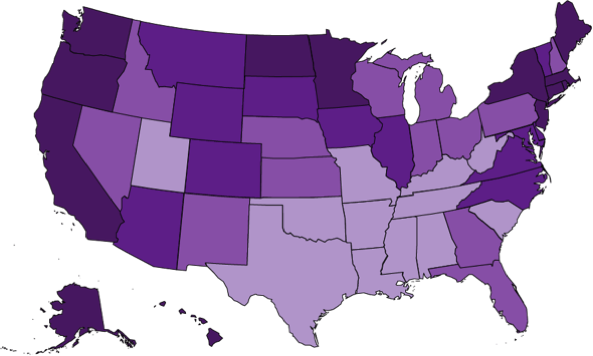 A career in this field may require you to meet certain licensing, training, and other requirements that can vary by vocation and state. You should check with your state, local government and/or licensing board to find out which requirements may be applicable in your state. Click here for contact information on state licensing/regulatory boards and certain professional licensing information.
NYICD offers convenient online training to anyone looking to gain the independence that comes with a new career. Study anytime, anywhere at your own pace and get certified in a matter of months. Call 1-800-239-9275 or enroll online today.